Hayley Rothenberg from "ELEMENTS of HAYLEY"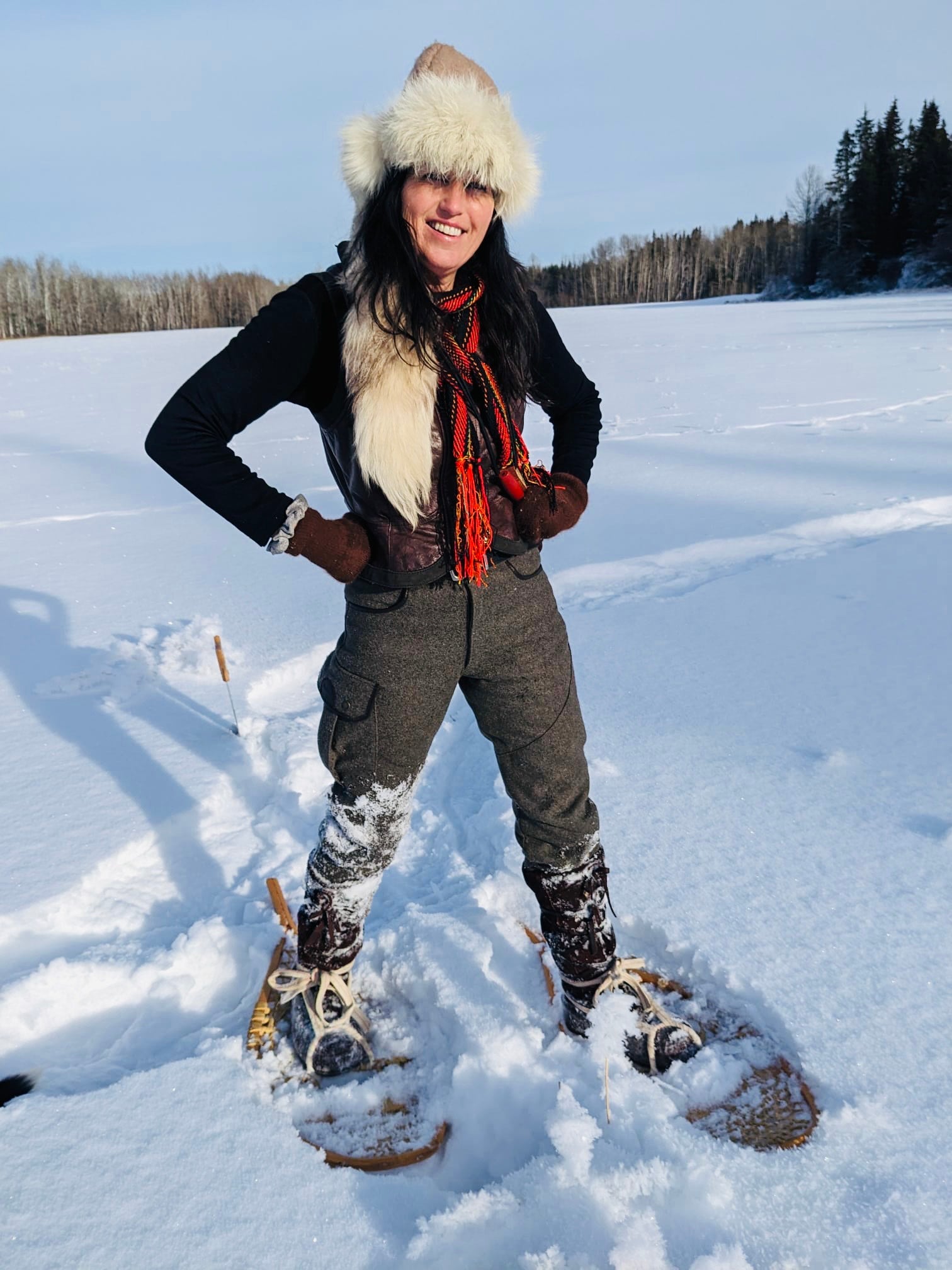 Understanding wool is your greatest power in winter in the Great Canadian Boreal Wilderness.
Finding wool clothing  for women is even rarer….. :(
I have been working in the Canadian Boreal forest for 8 years organizing outdoor wilderness events, survival and bushcraft course all over Alberta. Our courses run from 4 -7 days with short intensives. 
Winter is our longest and busiest season. We need to have the warmest clothing on the market to keep us warm in very bitter conditions. Often we are dealing with  temperatures as low as -25 to -30 and that is without windchill.
Wool is king! There is no other layer or material that will do the job of keeping you warm.
 It is not only super warm but very importantly wool is breathable. 
Imagine pulling a toboggan carrying all your gear, stoves, tents and food on a  5 day snow trek tour? 
Travelling in traditional  snowshoes making your way along and across frozen lakes for up to 5-8 hrs a day! 
You need to be comfortable - First rule on a survival course!
How to be comfortable - You need to be warm!
Warm but at the same time your body need to breath. 
Wool breaths and absorbs!
Absorbs the heat our bodies generate because it's breathable !!!
When you are working hard your body needs to absorb the sweat otherwise the sweat becomes cold.
Wool also doesn't smell and is fantastic around fire when we're are working on our bushcraft. 
Understanding wool is like understanding the language off survival in the bush.
When we take people out on our adventure treks or even a winter survival course we first teach them about wool!  How to dress and how layer in wool. This is a must to join us on our courses because we know what works and we know you will suffer is you are cold!
Understanding wool teaches you how to regulate your body in cold temperatures.
As a woman it's been impossible to find wool pants made for women. 
So we have settled to wearing horrible wool pants that are made for men. 
Unflattering, stiff, stuffy, ugly  and not made for our bodies and lack the movement that are bodies need to move!
When I discovered Micklagaard it was a game changer!
Not only are their pants elegant, but they are super rich in quality. 
Incredibly warm and the best wool pants I have seen in the outdoor world. 
They have nailed it!
Durable, warm, yummy, super high quality and so well made. It's like slipping into a warm sleeping bag! 
Mmmm the quilted inner layer giving  another extra layer of warmth.
On a recent trip in Canada Dec 2022 we endured temps of -38 with windchill.  I was able to function very well due my wool pants and not just their warmth but their durability. 
Durability being key!
A few scenarios on this trip in particular put the pants durability to the test because I needed to work on the ground. Setting items for us to harvest food which had me crawling around on the ground and inside of tangled messes of the bush. A few times they got caught on brambles but my pants just brushed it all off without a second glance and never once got damaged.
Inside the sanctuary of the Boreal forest I could work in the snow on my knees due to the incredible durability of these pants. This is rare. Limbing a tree is another fantastic example of the pants durability. They seem to be unaffected by the elements, work and any kind of terrain. 
Another scenario is we worked on the ice. Chiseling into thick ice which is hard hard work and a few times I had to get on my knees to do my job or take a break! I could sit on the ice because my pants were so cosy and warm! 
Good clothing means you can lay down on the snow and be comfortable! 
Maybe even take a nap !
Did these pants protect me in these bitter conditions? YES!
Tried and tested in bitter cold temperatures and at the same time a quality that makes them easy to move in. The durability of these pants means a life time investment because of how well they are made and the quality of wool.
It's rare to find heavy duty made wool pants that are so light.
I highly highly recommend them, investing in a piece of clothing that part of your survival wardrobe.
Finally a pair of wool pants that are made for us women! 
The moment you slip into these pants made for women you know you are putting on quality and this is what Micklagaard is about…Genuine high quality wool clothing.
---
2 comments
---
---